02.04.23
Blood Pressure Awareness Campaign
Northern Ireland Chest Heart & Strokes (NICHS) launched their blood pressure awareness campaign in April 2023. The charity is concerned about the number of people living with undetected high blood pressure and the fact 1 in 2 heart attacks and strokes are linked to the condition.
We are also delighted that MACE, is supporting the blood pressure campaign. The NI Chest Heart and Stroke Health Promotion team will be visiting a number of MACE stores throughout the coming months to provide free pop-up blood pressure checks to local communities. We want to provide people with a convenient opportunity to get their blood pressure checked."
Fidelma Carter, Head of Public Health at NICHS says; "Over 280,000 people, or 15% of the population here in Northern Ireland, are living with high blood pressure¹ but there is a significant number of people, around 120,000 who have high blood pressure and do not realise it. Shockingly, this means approximately 26% of people in Northern Ireland may have high blood pressure. This gives us great cause for concern due to the link between heart attacks and strokes."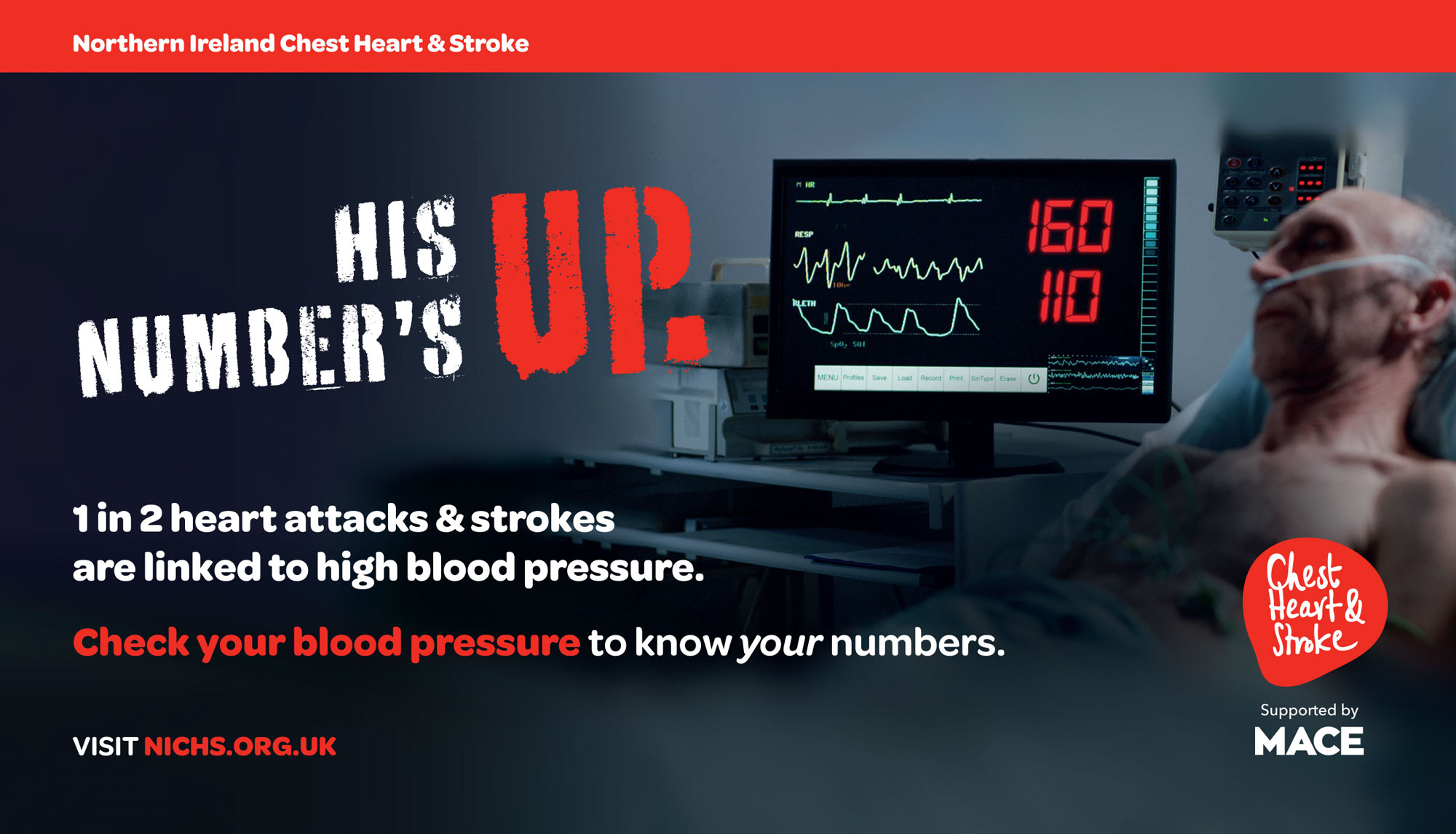 "Undetected high blood pressure is often known as 'The Silent Killer' due to the fact it rarely causes any physical symptoms or warning signs and is often only discovered after someone suffers a stroke or heart attack. The only way to know what your blood pressure is, and if it is high, is to have it measured and that is what we are urging the public to do through our campaign."
"We want to raise awareness about the seriousness of high blood pressure and its link to strokes and heart attacks. We are encouraging people to get their blood pressure checked to reduce their risk of a serious health event by seeking treatment where necessary. A blood pressure check is simple and only takes a few minutes, but it really could help save your life."
Fidelma continues; "Many people associate high blood pressure with older people, but high blood pressure can affect anyone, at any age. It is important people are not complacent about their health just because they are in a younger age bracket."
"There are a number of ways you can get your blood pressure checked. You can make an appointment with your GP or visit your local pharmacy which may operate a blood pressure monitoring service. You could also buy a blood pressure machine for home monitoring. Alternatively, you could attend the free pop-up blood pressure checks delivered at selected MACE stores across Northern Ireland. You can also book an NICHS Well Check, our comprehensive health checks service, at www.nichs.org.uk/get-a-health-check ."
Blood pressure is a term most of us will be aware of but what exactly is it? Blood pressure is a measure of the force the heart uses to pump blood around the body. High blood pressure is not a disease in itself but it can lead to an increased risk of other serious conditions.
Over time, high blood pressure puts pressure on the heart, making it work harder. High blood pressure slowly damages blood vessels by making them narrower and more rigid. It can also cause small tears and damage to the insides of the blood vessels. As the blood vessels become more damaged and rigid, the heart must work even harder to push the blood through the blood vessels and overall blood pressure rises further. It becomes easier for clots to get caught and for fatty debris to block the blood vessels. This can result in clots which may travel to the heart or brain and cause a heart attack or stroke as well as other conditions such as heart failure and dementia.
Blood pressure is measured in millimetres of mercury or mmHg. High blood pressure is indicated when readings begin to rise above the levels of 140/90mmHg- ideal blood pressure is between 90/60mmHg and 120/80mmHg. One reading alone cannot diagnose high blood pressure however, it must be recorded over a period of time.
Fidelma explains; "Due to the serious health risks associated with high blood pressure it is vital people are aware of the importance of monitoring their blood pressure to know their blood pressure numbers and whether these are high and a potential cause for concern. This is the key message of our campaign which includes extensive outdoor, radio and digital advertising to increase public awareness."
"We are also delighted that our corporate partner MACE is supporting our blood pressure campaign again in 2023."
Diane Anthony from MACE adds: "We are delighted to play our part in supporting NICHS's blood pressure awareness campaign and to welcome our charity partner to our stores to deliver blood pressure checks. We are very proud of our long-term partnership with NICHS which carries out vital prevention work and this latest initiative is extremely worthwhile and could save a life. We would encourage our shoppers to pop in and avail of the service."
Fidelma continues; "Our Health Promotion team will also be bringing free blood pressure checks to several shopping centres across Northern Ireland. We understand how busy everyday life can be but making time for your health is so important and we are hoping as many people as possible will take up this opportunity for a blood pressure check. The NICHS website and social media channels will have all the details about the pop-up checks so please follow us online for more information."
The seriousness of high blood pressure is clear but what can the public do to reduce their risk? Fidelma explains; "Having high blood pressure dramatically increases your risk of heart attack and stroke, so it is very important that if you have it, you are diagnosed and receive and maintain appropriate treatment. The good news however is it is also one of the most preventable causes of these conditions. There are many lifestyle changes we can all make to help reduce our blood pressure and maintain it at a healthy level. These changes include maintaining a healthy weight, taking regular exercise and being more active, reducing salt intake, stopping smoking, increasing fruit and vegetable consumption and cutting back on the amount of alcohol we drink. These changes might sound simple, but they really could help save your life."
For further information and support about blood pressure, visit www.nichs.org.uk/highbloodpressure